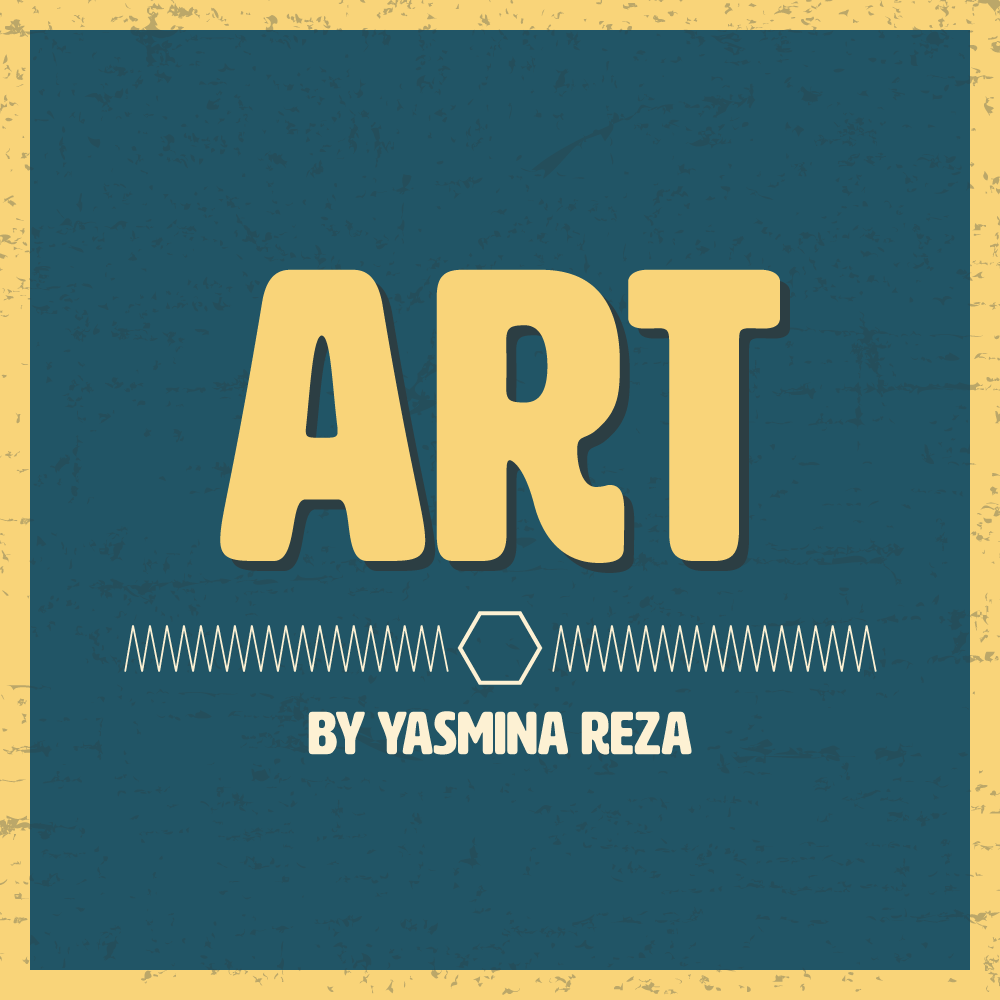 "Basquiats, Warhols, servin' as my muses/
My house like a museum, so I see 'em when I'm peein' "
– Jay-Z, "Illest Motherfucker Alive"
I know I've mentioned this before, but there actually is one genuinely funny moment in the movie Ted. It's when rich asshole Joel McHale is showing off his expensive collection to dinner guest Mark Wahlberg. The collection mainly consists of priceless sports memorabilia, about which McHale rambles on at great length. Yet, he's stumped when he comes across an abstract painting for which he paid an equally obscene amount. After a long-but-telling pause in which McHale is unable describe anything about the painting, he finally turns to Wahlberg and says:
Even if McHale's perfect deadpan didn't already strike the perfect tone, the moment is funny because it rings true. All of us who have ever taken more than a casual interest in the arts know someone (or lots of someones) that obnoxious. For them, a piece of art isn't some expression of the creator's worldview, nor is it an innovative use of technology to stir emotion – it's a status symbol, nothing more. Hell, that Jay-Z lyric I used up top was neither the first nor last time he bragged about having expensive art that the public will never see (such is the whole point of "Picasso Baby").
People like that don't collect art for what it says or how it makes them feel; they collect art just to say that they have it and you don't.
Yasmina Reza's Art features one such character in the form of Serge. He's called out on his poseur purchase by would-be iconoclast Marc. Both bounce their opinions off of walking doormat Yvan. The text of Reza's latest work suggests the almost maddening intangibility of value. Unfortunately, it doesn't quite present all of its work and the slippery production by the SF Playhouse isn't doing it any favors.
Serge just dropped $200,000 on a painting. A white painting. A white painting with three barely-visible diagonal slashes (apparently Wolverine doesn't care for blank canvases). He doesn't see anything when he looks at it, but he knows that if it costs $200,000 now, imagine how much it'll cost in the future. Also, it's "not white".
Marc doesn't see anything either; nothing but a small fortune washed away by a close friend with money to burn. As a married man, Marc doesn't have that kind of money to burn. Upon looking at the painting, all he can do is laugh. It's a very condescending laugh that only lasts a moment, but cuts Serge to the core. The kind of laugh made by someone whose defining trait is his intentional contrarianism.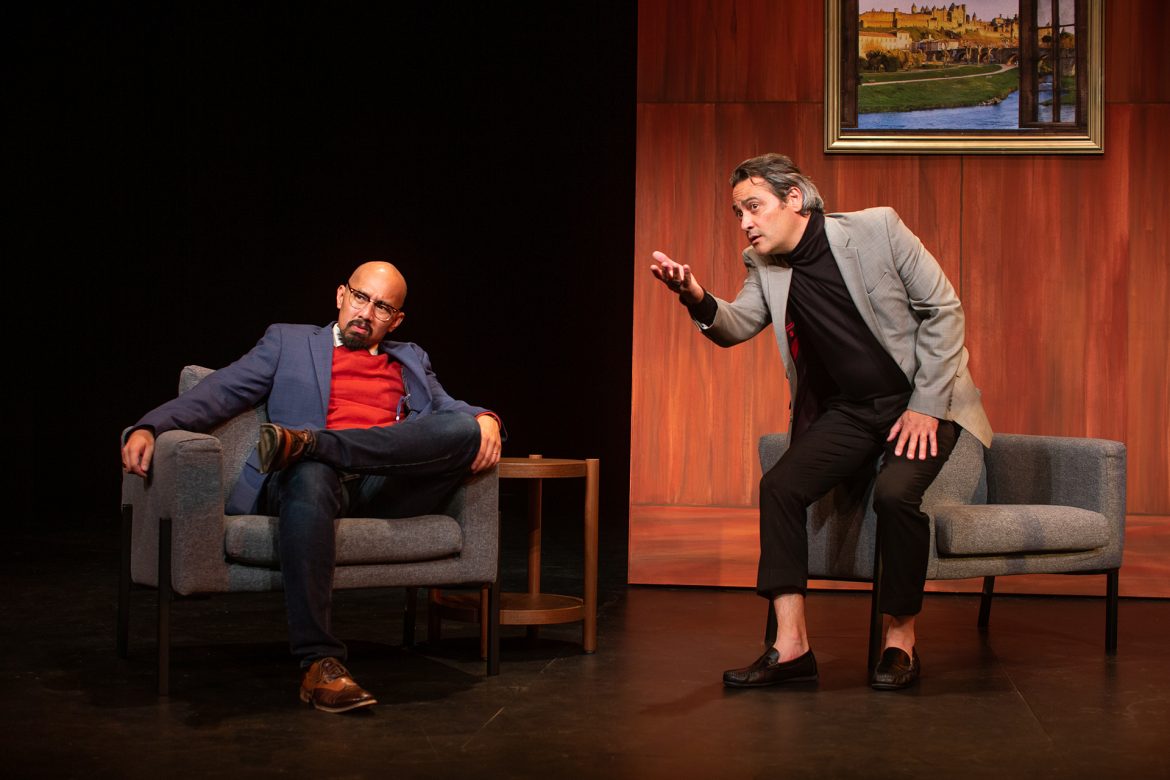 Yvan actually does see something in the painting. At least, he says he does. Clearly the third wheel of Marc and Serge's friendship, Marc is convinced that Yvan only sees something because he wants to impress Serge. Given that the newly-engaged Yvan is easily pushed around, Marc's assessment of him is as likely to be right as it could be wrong.
And on and on the play goes.
Its strongest moments are when it suggests a damning condemnation of "traditional" (read: "toxic") masculinity. At first, the three resemble a Freudian psyche, with Yvan clearly meant to be the Ego stuck between the two polar extremes. But Marc's reaction to the dissolution of he and Serge's friendship is more akin to that of a jilted lover. Indeed, Serge takes great pleasure in attacking Marc's wife. When the two are on the same page, they insist (not advise) the emasculated Yvan to cancel his upcoming wedding to an apparent shrew of a woman.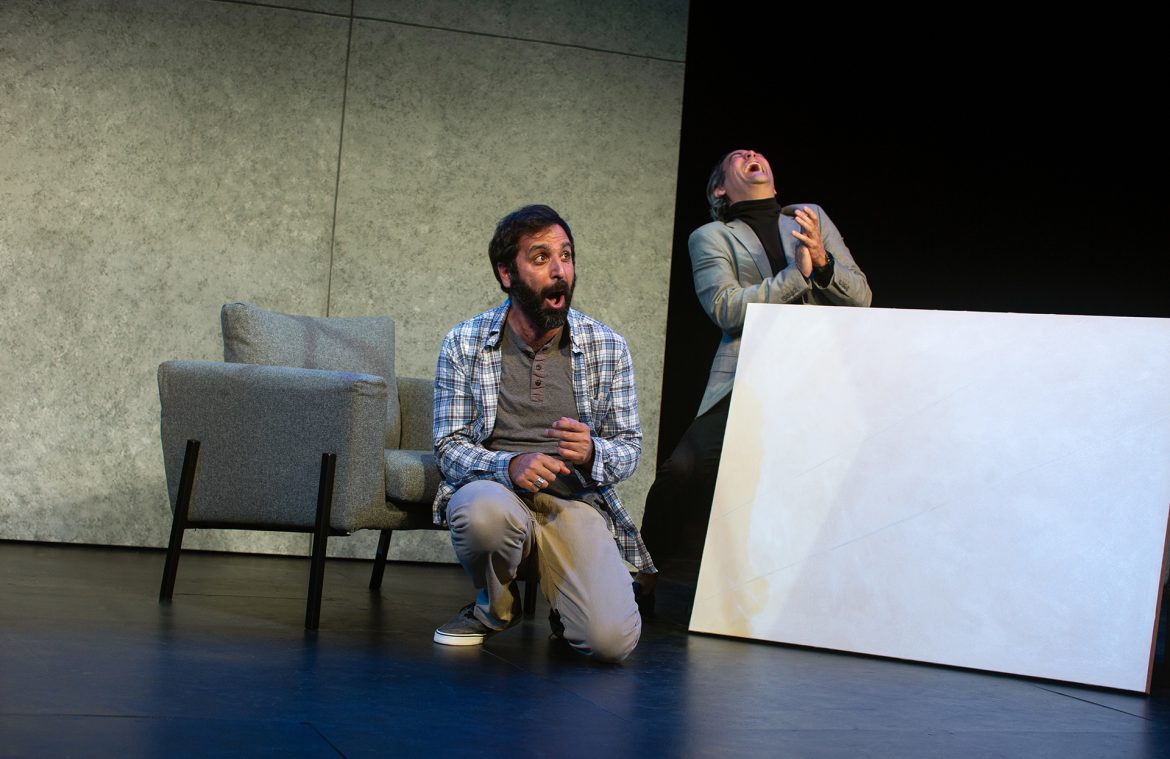 Had the script kept its focus on the negative effect of such macho posturing – including dropping $200K on a painting as a means of proverbial dick-waving – then it would have served its author well. Instead, this is another in a long line of plays that expects us to love characters who are absolutely horrible. Hell, the majority of the play (almost the entire second-half) revolves around a sort of Micro-Aggression-lympics between Marc and Serge, the two of them bouncing Yvan back-and-forth like a ping pong ball in an attempt to make him choose sides. Several times, lines are crossed – ones from which there is no return – but we're expected to believe that they made up moments later.
It's as if Reza loses all confidence in her characters and scenario, so she falls back on the old chestnut of just having them yell at one another until they stop for some reason – that's what makes great drama, right?
Unfortunately, the uneven text isn't helped by an equally uneven production by SF Playhouse. This is the sort of show the Playhouse either gets really right (with spot-on directing and acting to capture the power of the text) or really wrong (making the text's flaws all the more visible). Under the direction of Artistic Director Bill English, this one falls somewhere in the middle. There more inspired choices are the aesthetic ones, such as the English-designed set which consists of a center wall that spins like a dreidel.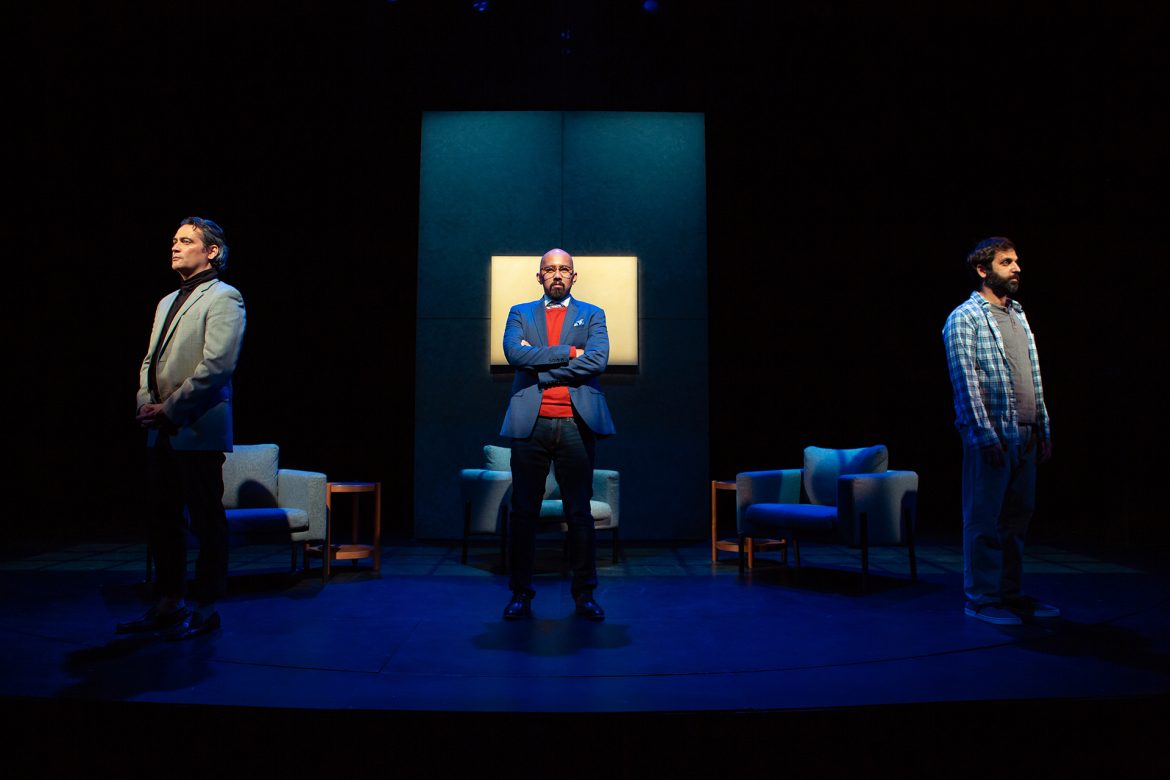 Yet, English and his cast are never able to properly tune into the characters, so to speak. Jomar Tagatac is easily one of the Bay Area's most reliable actors, but not even he seems to truly believe what Marc is saying at any given moment. Johnny Moreno I last saw in the Playhouse's production of Noises Off! a few years back, so I know he has skill, too. But here, he never finds the heart of Serge, playing him like a dodgy Frasier Crane impression. I don't recall having seen actor Bobak Bakhtiari before, but his inability to find the right tone for Yvan highlights yet another problem of the text.
Yvan is the only character whose ethnicity is acknowledged, by way of the Indian accent he adopts when impersonating his mother. It suggests a powerful racial imbalance to match the over class imbalance. The fact that the MacGuffin is a white painting that's both used as a status symbol, claimed to be "not white" and "have color" (the latter of which is often used by white supremacists like the Proud Boys and Boogaloo Boys), and is worth more damaged by slashes than not – these things are possibly more deeply embedded into the script than the sexual tension. But, much like last year's Free for All at Cutting Ball, this show tiptoes around the topic of race when it should be addressed head-on.
(Given the way the Playhouse and its staff were excoriated in the infamous "Living Document", now would have been a fine time for them to both acknowledge and improve upon their past racial mistakes.)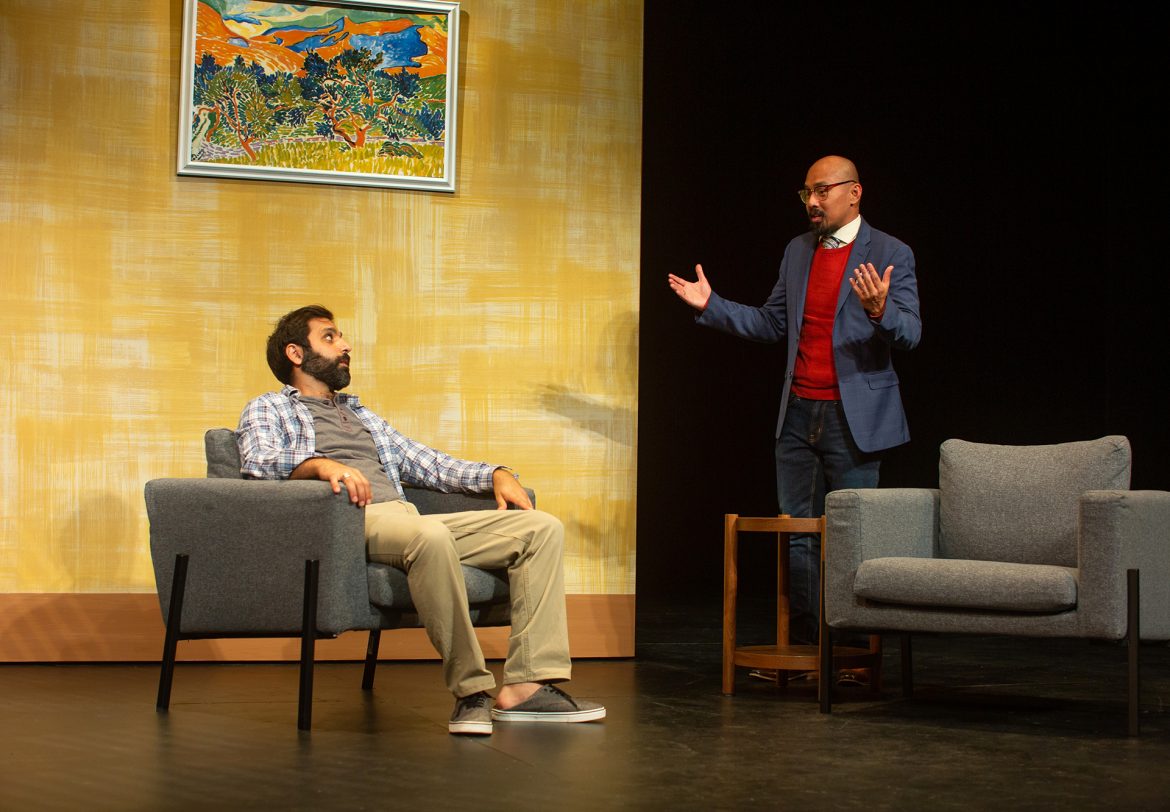 Whereas Shotgun's current stream of Josh Kornbluth's Citizen Brain is live every night, SF Playhouse's stream of Art is a recording of a single performance. Of the video itself, I'll say that's it's as rough around the edges as anything else in the show, with camera movement often seeming confused and some editing choices (either lingering on one scene partner too long or cutting away from them too soon) that irked me.
The fact that the video appears to document a rough preview makes me wonder: would the show itself have improved were it allotted multiple performance dates? Would the alleged "comedy" have revealed itself in front of a live audience? Would the actors have played the right notes for their characters and given them the heart the playwright couldn't? One can only speculate.
As it stands, the Playhouse's production of Art is, like its MacGuffin, an imperfect work. Unfortunately, it's not really the kind that looks better from different angles.
GRADE: C+
Art is scheduled to stream until the 7th of November.
The show runs roughly 90 minutes with no intermission.
For tickets and information, please visit the production's official site here.